DECLARE HIS PROMISES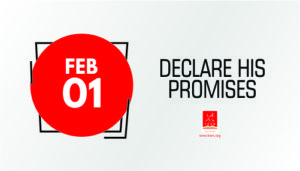 "For all the promises of God in him are yea, and in him Amen, unto the glory of God by us."
2 Corinthians 1:20 (KJV)
Each time you declare the promise of God over your life, you are taking your position, irrespective of what you are facing. For instance, no weapon formed against me shall prosper. Every tongue that shall rise in judgment against me is condemned. I live under an open heaven. No sad news is permitted in my family. I will not die prematurely. Long life is my portion. Whatsoever I do shall prosper. I am taking my portion in the land of the living and my destiny will not be aborted. Whatever I bind on earth is bound in heaven. What I lose on earth is loosed in heaven. Hallelujah! When you take your position, your position will deal with your circumstance. That's how it works.
His promises for you are guaranteed. God cannot break His word. And because His word cannot change, His promises likewise are unchangeable. Everything that goes into a life of pleasing God has been miraculously given to us through the intimate knowledge of our Lord and Saviour Jesus Christ. You were also given precious and better promises which are your tickets to participation in the life of God after you turned your back on the world. So you must not stop talking about them. Every moment; in your car, when you are having your shower and everywhere, declare your position. Each time you stand and proclaim the promises of God on your behalf you are taking your position. Your position became your inheritance when you gave your heart to Christ.
When you are declaring your position, the environment may become more nasty and hostile, don't ever allow the environment to be your focus. Keep on saying to yourself: "God is for me. If God is for me who can be against me"? That is how to manifest and experience what grace had made available in your life. I declare over your life that the things that hitherto stood against you will begin to bow to you. Where you have hitherto failed, you will succeed.
Further Reading: 2 Peter 1:4, Hebrew 6:17-19
Daily Bible Reading: Morning- Exodus 27-28; Evening- Matthew 21:1-22